Portable Multifunctional UV Cellphone Sterilizer, with UV/Ozone Double Sterilization, for Earrings, Headphones, Masks, Watches and More
Regular price
$212.48
Sale price
$84.99
---
Sold by OFNE and Fulfilled by GizModern

FREE SHIPPING WORLDWIDEThe best way to disinfect your belongings.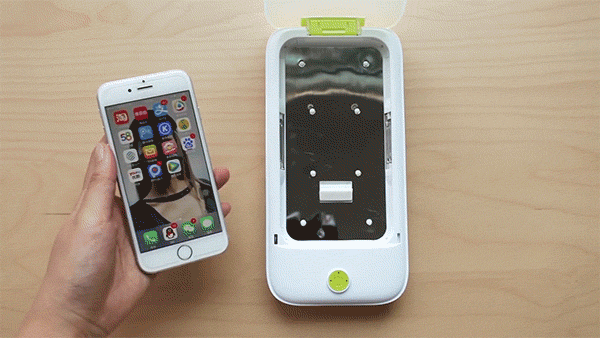 The ultraviolet sterilizer is suitable for mobile phones of 6.59 inches and below.
The rechargeable sterilizer is ideal for carrying around and sterilizing mobile phones anytime, anywhere.
The dual sterilization mode of ultraviolet rays and ozone gives your mobile phone a full range of disinfection.
The mobile phone is one of the most bacterial items in our personal belongings.
Disinfection kills 99.99% of bacteria once a day.
There are two modes to choose from, 15min disinfection mode can kill 89.9% of bacteria; 30min disinfection mode can kill 99.9% of bacteria.
After opening the cover, the phone will be supported, so that you can take it out.
The nano matte cover and bottom reflector can completely reflect the ultraviolet rays.
After opening the lid, the UV lamp will automatically turn off and will not illuminate the human body.
The visual sunroof keeps you from missing important calls.
There is a bracket between the mobile phone and the base, which can disinfect the mobile phone in all directions.
There is a USB charging cable in the package.
Suitable for most mobile phones on the market.
Bacteria and viruses easily cause various infections and diseases.
When you touch your child as soon as you have finished using the phone, it is very likely that the virus and bacteria on the phone will be brought to the child.
185nm ultraviolet rays can directly destroy the structure of DNA and RNA in microorganisms such as bacteria, viruses, etc., causing them to die.
Oxygen in the air will decompose into ozone under the irradiation of 185nm ultraviolet rays, which can destroy and decompose the cell walls of bacteria and kill bacteria.
High-quality lamps for long-term use.
Structure:
Shipped directly from the manufacturer. 100% Satisfaction GUARANTEED!